Conceptually, a while back when the Human Hand met Technology, it caused a sort of "spark" and then there was a "big bang" and a new Universe was formed with a mega star,
Silicon Interfaces
. This Universe has two Orbits (Software and VLSI) and each Orbit has its own Planets, which are the representative Services, one for each in VLSI (Front-end, Verification, Backend, and Silicon Cores) and Software (Systems, Applications and Internet). The Universe also has a few stars, like Management, Resources, PEAP (
P
artner's
E
xchanges/Enablers (for Software)
A
lliances
P
rogram) and Tools and Technology.
The Service Modes depicted by the Shuttle is the vehicle to get to the
Silicon Interfaces'&nbsp
Universe.
•
Methodology & Standards
•
Application Lifecycle Management(ALM)
Service Mode
•
Contract Consulting at Customer Site on Time and Material basis
•
Consulting with PM/PL & Engineers at Proximity Centers or Dev Centers close to Customer on T&M
•
Turnkey Project Services with Project Management team from SI
•
Typically, PL On-Site at Customer, PM at Proximity Center and Offshore and team Off-shore with visit by Customer to Off-shore
Dedicated Virtual Development Center
•
Extension and Dedicated Dev with Project Management with Client
The model envisages Innovation and Architecting by Business Analysts having pulse of market.
Silicon Interfaces
should be used for design/development, testing, verification,
sustenance engineering
,
quality assurance
, and
integration
activities to reduce significant amounts of repetitive work.
Offshore development centers are ideal settings for such jobs due to a high focus on processes via Six Sigma and CMM certification and the availability of a vast pool of Engineers
The quality and standards as provided for in our Company Mandate based on our Customer requirements are achieved by structured processes implemented in
Silicon Interfaces
.
•
Recruitment from Advanced Degree programs from leading Universities with process involving
•
Consultants who have been recruited through a process which is professionally and rigorously implemented over an extended period of time and undertaken in a structured manner analytical, problem solving, verbal and communication, technical assessment
•
Consultants who have been extensively trained (in-house and externally) over a period of time in a vast range of tools, technologies and methodologies
•
Training (In-house and External)
Tools: Planning and Monitoring, Case, Version Control, Dev, Test, Bug Report, Documentation
Technologies: Embedded, DSP, Dot Com, J2EE, Ajax, Service-Oriented Architecture, Etc
Methodlogies: System design, dev, documentation & testing methodologies
•
Experience on turnkey projects and in-house products with high acceptance in the North American and European markets
•
Consultants with training inculcating Hard Working, Positive Attitude, Pro-active Thinking and Communications Skills
•
Access to State-of-the-Art Development Centers
•
Infrastructure for Real Estate and Internal Workspace, including Libraries, Meeting and Conference Facilities
•
Complete Infrastructure for Video, Communication, Telecommunications and Networking
•
Complete Hardware and Software Facilities
•
Trained and Knowledgeable Engineering
•
Project Management Services
•
User Product Documentation
Methodology & Standards
•
Waterfall, Spiral (preferred) and RAD
•
For Software C/C++/Java coding standard
•
For VLSI, Verilog/VHDL modeling standard
•
Modeling and Verification Methodologies
•
Prompt and Efficient Customer support
•
Employee relationship (ER) program
•
Feedback Program between the Customer and Project participants in order to enable a process of continuous improvements
Application Lifecycle Management (ALM)
Silicon Interfaces believes in support right across the full Life Cycle of Projects and actually implements the processes and methodologies by using extensive tools right through the LifeCycle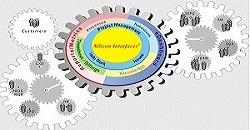 •
Requirements and Resource planning
•
Bugs and Version Upgrade
•
Integrated Solution to manage the different components - project management, process compliance, resource optimization and knowledge components.
•
Visibility on the status of projects to internal stakeholders as well as your external stakeholders, the customer.
•
Productivity: Reduces administrative overheads, leading to operational efficiency and productivity.
•
Resource Optimization: Manage your human resources - their time, skills and efforts, to achieve topline benefits.
Click here

for Submission for Services Requirement.
Click here

for Request for Proposals for Turnkey Projects.